Contents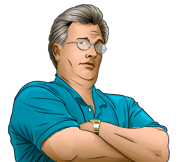 Eric.NewsletterColumn()
Eric Sink, Company Founder
Jeff Clausius

Goodbye Fortress – Hello Vault Professional Edition!

SourceGear is proud to announce that Fortress 2.0 is now Vault Professional Edition 5.1. More than just a name change, this new release is an exciting upgrade to Fortress 2.0, including defect tracking integration with Axosoft OnTime, the award winning project management and bug tracking software. Simultaneous with this change, we have renamed SourceGear Vault to SourceGear Vault Standard Edition. Best of all, we've dropped the price on Vault Professional (Fortress) from $599 to just $449/user!

Paul Roub

Veracity is officially half a product!

Wait, what's Veracity?

If you're not a regular follower of Eric's Blog, and you don't regularly check our web site for front-page updates, you might not know that we have something new in the works.

SourceGear Veracity is a new Distributed Version Control System (DVCS) with some lofty goals (the only kind worth pursuing). The "Distributed" part means that a team using Veracity is not tied to a server. Every developer has a copy (or more) of the entire source repository on their own machine. Why? Short answer: Independence and Speed. The Speed comes from your being the only one talking to your very local database. Independence comes from the ease with which you can work independently, up until the moment you decide to merge your code with someone else's.

Oh yeah - we're bringing distributed databases to the party. Your bug tracker? That's local, too. Work on the plane or out of wifi range without a single scribbled note or random text file keeping track of things. And everything merges happily together when you reconnect with the team.

Did I mention that the core product will be open-source? True. With add-ons, soon after, that will make Veracity a great tool for professional teams in need of a DVCS.

And it's truly cross-platform. We build, and use, Veracity daily across Windows, Mac and Linux systems.

Linda Bauer, Support Manager

We know that SourceGear's customers often upgrade their development tools and operating systems to keep up with the new technologies, so we work hard to make sure the latest version of our products are compatible with the most recent versions of Visual Studio, SQL Server, and Windows.

Vault Standard 5.1 and Vault Professional 5.1 fully support integration with Visual Studio 2010.

If you are currently using Vault Standard 5.1 or Vault Professional (formerly called Fortress) 5.1 and are upgrading to Visual Studio 2010, first install VS 2010, then uninstall and reinstall the Vault client or run a repair install. We recommend that you upgrade to Vault Standard/Vault Pro 5.1.1. It's a free upgrade from earlier Vault 5.0.x/Fortress 2.0.x versions.

SourceGear Support

What if you have a server failure, hard drive failure or SQL Server catastrophic failure? These types of hardware/system failures can damage your Vault or Fortress database.

If a database is damaged, it may not be recoverable. If it is recovered with data loss, your database may still be unusable for source control or item tracking operations.

You may believe you have a recent backup. Are you sure? Maybe the backup job ran out of disk space, or something on the network has changed and the backup isn't occurring as scheduled.

These are all real issues that have impacted our customers in the past year.

This is a friendly reminder from your SourceGear Technical Support Team to back up your sgvault, sgmaster and (if you're using Fortress or Vault Pro) sgdragnet databases on a regular basis to prevent downtime for your production team and possible loss of your source code and item tracking information.

Once you've established a backup routine, it's crucial that you test your backups. Every couple of months, restore your most-recent backup to a separate SQL Server - which is the situation you'll be in if you really need the backup. Make sure the backups are intact and accessible, and that you know the steps to restore a working SQL Server database.


John O'Neill, VP of Sales

Happy New Year from SourceGear!

I hope all your holidays were great. Here at SourceGear salesmen aren't permitted time off, so I've been wandering the halls during the slow holiday weeks, munching on Christmas cookies I found in the kitchen and getting to know all the people working in our testing labs.

Like me, many of them are fitted with ankle bracelets to prevent them from sneaking off before five, so it turns out we have a lot in common. Unlike salesmen however, these testing guys sure can stay focused during cocktail hour. I was amazed at what they've been working on.

For some time now, one of the most popular feature requests from Vault users has been the ability to version control SQL stored procedures. Turns out these testing guys have working hard with one of our partners, Red Gate Software, to find a solution.

Red Gate has now added support for SourceGear Vault 5.1 to their SQL versioning tool, SQL Source Control. This allows you to work directly in SQL Server Management Studio and connect databases to SourceGear Vault, to bring all the benefits of source control to your database within SSMS. Is that cool or what?