As the only sales guy at a company full of famous developers, it can sometimes be a challenge to stay on message.
I'm responsible for selling SourceGear products. It's my job to get the word out to customers - on how much better our products meet their needs than (say) VSS and TFS, on the exciting new features in Vault 5.0, Fortress 2.0 and SourceOffsite 5.0, and on special promotions.
Last month we produced the first e-mail promotional flyer in company history. Some of you may have already seen it - it featured a 40% discount for new licenses and upgrades to SourceGear Fortress, and went out to select customers who've already asked us about Vault and Fortress. We spent a lot of time carefully crafting a product message without a lot of clutter. It was simple, direct; concisely communicating why we think Fortress is the best Application Lifecycle Management tool for small and mid-size teams.
We ran it past Eric Sink and the team of elite developer geniuses who run SourceGear. The response came back on a single Post-it note:
"Great Idea. Needs more Robots."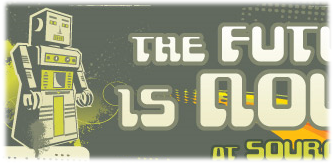 And so was born "The Future is NOW at SourceGear." A promotional campaign with eye-catching graphics, a black & white TV set, and patter inspired by late-night television ads of the 1960s. And robots.
Response to the promotion has been great. We've signed up many folks interested in attending our online Fortress demonstrations, sold a lot of Fortress, and received a bunch of e-mail like this one from Louise Geary from Atec Group:
"What an awesome ad!! And no, I'm not a robotic overlord, and I promise to eat my vegetables!!"
Helping people get awesome deals on great software tools, making them smile, and delivering important nutritional information, all in one package. That's job satisfaction.
It's not too late to sign up for your very own online demo of SourceGear Fortress. The form is here.
Want to see The Future is NOW advertisement is all its robotic glory — and take advantage of that 40% discount before it expires on May 30? It awaits you here.
And to answer the most popular question we've received since the ad went out… no, we're not working on actual SourceGear robots.
But stay tuned.
John O'Neill - john@sourcegear.com
V.P. of Sales
630-762-3930