Vault 5's New Import
Jeremy Sheeley, Development Manager
As most of you know, Vault started its life as "a compelling replacement to Visual SourceSafe". VSS influenced the feature set of Vault, and we've had a full-history import from VSS since day one. For our next version, we're introducing a brand new VSS import feature that will make Vault the simplest and fastest way to replace VSS. We call it… well, we don't have a name for it yet. We've been too busy building it. We're open to suggestions.
The new import will take the latest version of every file in VSS an put that into Vault. All pins and shares will be reestablished. This gives a huge performance improvement over the old import. Additionally, that means that any historical corruption in your VSS database probably won't stop the import from succeeding. In order to give you access to your VSS history, we've given the Vault server the ability to query VSS history and fetch old file versions. A screenshot is worth a thousand words: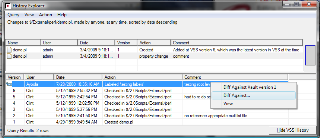 Here we see a newly imported file, showing VSS history and labels from 10 years ago (back when we too were frustrated VSS users). In the history dialog, you can View a VSS version, or diff VSS versions against Vault versions. The VSS versions and history are not stored in the Vault database, so Vault can stay lean and mean.
We are very excited about the new import. We hope that you're excited too. To try the beta version of our next release, watch the Development Blog for the first beta announcement, coming very soon.